On-site saliva drug testing - the best technology for the job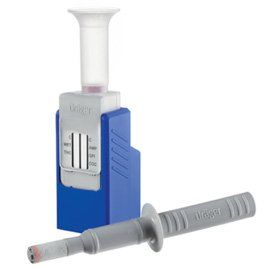 Innovative, accurate and affordable. These are the key attributes BMF's co-directors, Noah Tyler and David Gould are looking for in selecting testing equipment for use in their workplace drug testing services. 
Since BMF's inception in 2013, we have conducted tens of thousands of tests. Over the years, we have rigorously evaluated numerous technologies for use for our workplace drug and alcohol testing services. 
Ultimately, we only trust the high quality proven testing technology of the Drager DrugCheck3000 to ensure reliable and accurate on-site screening results every time.
Our long-term sponsor Dräger, has worked tirelessly over the years to raise the bar in the technical standard of saliva drug tests in the market. Dräger are now the leading supplier of oral fluid drug testing technology in Australia and abroad.
Police-Grade Saliva Drug Screening
The Dräger DrugCheck3000 is widely used internationally for police roadside testing. Dräger technology is also widely employed Australia-wide in roadside drug testing operations. Dräger are licensed by the Australian Government in providing certified interlock devices for offending drink drivers and in providing law enforcement roadside testing using the DrugCheck5000 which is the secondary test should someone test positive on their preliminary test. Our partnership with Dräger allows BMF to provide the best roadside testing equipment in our workplace testing service at an affordable price to the consumer. 
Sensitive Drug Detection – Even for THC!
With Cannabis being the most widely and most frequently used illicit drug in Australia (1) , accurate detection of THC in the workplace is more important than ever. Historically, on-site technologies have struggled to achieve this. The Dräger DrugCheck3000 has evolved from the proven DrugTest5000 but with more flexibility due to no electrical parts and can detect even minute traces of d9-THC down to 15ng/ml.
Our DrugCheck® 3000 Delivers Hygienic Sample Collection and Rapid Results
Non-invasive & rapid saliva collection in 15 seconds

Sample adequacy indicator ensures the correct volume of saliva is collected every time

Rapid testing for 5-6 drug classes in only 5 minutes

Similar to blood testing, the DrugCheck®3000 provides reliable results about whether someone has recently consumed drugs

Designed and Manufactured in Germany and tested to Dräger's Strict Quality Assurance Processes

Constantly evolving to keep up with changing testing requirements in the Australian testing environment
1)  Australian Government | Australian Institute of Health and Welfare: Alcohol, tobacco & other drugs in Australia, 26 Jun 2020 | www.aihw.gov.au
For more information or an obligation free demonstration, please contact BMF today .